Heavy Vehicle Certification Systems, Pty., Ltd.
VASS No 2030
Heavy Vehicle Certification Systems is a VASS signatory authorised to certify modified heavy vehicles for registration in Victoria, Australia. We provide design and load calculations for heavy trucks and trailers to ensure they meet Australian Design Rules and Victorian Road Safety standards.
IMPORTANT UPDATE: On the 10th February 2014 all vehicles over 4.5 tonne GVM rating that use the public roads are now under the full direction of the National Heavy Vehicle Regulator (NHVR). All states have agreed to this except Western Australia. We can advise you and help you comply with all relevant rules. [--see more--]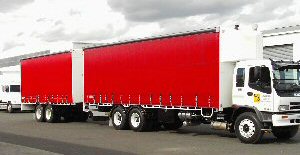 If you wish to contact us, you may use our contact form or call us at 0400 447 822.
If you wish to book for HVCS services, please complete and send our PDF booking form.




Learn about 'Load XpertTM software
Page last updated on 19 May 2022.
Copyright © 2009 - 2022 Heavy Vehicle Certification Systems Pty Ltd , all rights reserved.
ABN: 87 132 266 276
Web site designed by Bartosh Internet Designs